The "KopieLab" of the Océ Museum is looking for volunteers
The "KopieLab" is a new activity within the Océ Museum in which educational programs are developed for students aged 10-15. With practical examples and assignments, these students are introduced to the multifaceted world of copying and printing technologies. Various aspects such as color, magnetism, development and inkjet are discussed.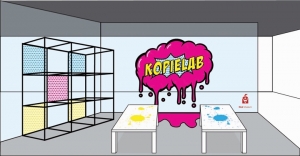 We are recruiting new volunteers for our "KopieLab" team. We are already active in the Océ Museum with around 40 colleagues.
The education team, which is developing the "KopieLab", now consists of 2 people.
The new "KopieLab" volunteers will be mainly concerned with the introduction of Océ Museum to pupils and their supervisors / teachers, the implementation of the various educational programs within the "KopieLab" in the Océ Museum and the development of the programs.
On an annual basis we want to receive at least 400 students in groups of around 20 people. In a few years' time, if there is sufficient interest, the programs can be included in the curriculum or art program of the schools.
The "KopieLab" offers a challenge. As a volunteer you are at the basis of a new activity of the Océ museum and you promote future working in the industrial high-tech sector. All this in a great, historic environment.
For the short term we are looking for reinforcement for our "KopieLab" education team to further develop education.
The team works out the new lesson programs and tests them during 2020.
In the somewhat longer term, autumn 2020, we are still looking for 4 volunteers to prepare, guide and discuss the experiments in the "KopieLab" with the students.
The volunteers must be able to empathize with the thinking and living environment of young visitors to the Océ Museum (secondary education and group 7/8 of primary education).
As an enthusiastic volunteer in the team of the "KopieLab", it is important that you help each other on the basis of, for example. everyone's own experiences. The scope of work is 1 to 2 half-days per week, depending on the period of the school year, which must be completed in mutual consultation.
Interested?
For more information you can contact the Océ Museum "KopieLab" via email: jo.geraedts@cpp.canon